SERVICES
 syHaya Air Solutions has a reputation for successfully rebuilding refrigeration and air conditioning compressors for many years and we promise to deliver only the best standard of materials and workmanship.
We provide service exchange remanufactured units. In the event of a unit not being available, we can remanufacture your unit in one week dependent on spare parts availability. Remanufactured units are bench and pressure tested before the are released.
Haya Air Solutions also does on site repairs and assists in the removal and reinstallation of a compressor and all major brands of refrigeration and air-conditioning units.
Mission
Haya Air Solutions strive to set high standards in the HVACR industry in South Africa and abroad with a unique mixture of theoretical know how and extensive hands-on experience in the Marine HVACR field. We aim to provide our clients with:
Quality Workmanship
Prompt Delivery Schedules
Exceptional After Sales Service
Service Offering
Strip and Inspection of Compressors
Compressor Rebuilding, Service and Repairs
Service Exchange Compressors
Reconditioned Compressors
Supply of Spare Parts
On-site Compressor Repairs
Tailor Made Service Repairs
24/7 Breakdown Service
On-site Evaluation
Commissioning
Facility Management
Consulting and Retrofitting Services
Installation of new systems
Industrial ice machines
Sectors Served
Commercial & Specialised Vessels
Fishing Trawlers
Ammonia Plant systems for marine & industrial
Medical Facilities
Commercial & Industrial Warehousing / Offices
Retail Chains
Cold Storage Facilities
Manufacturing Plants
Mining Companies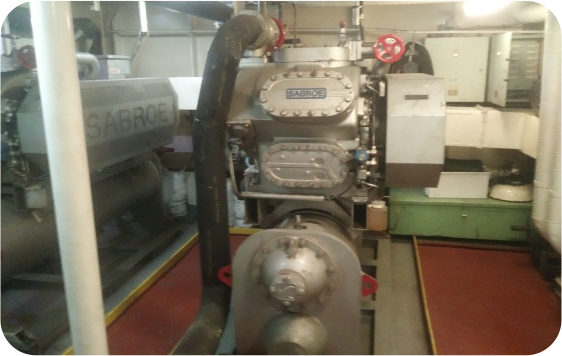 Quality Standards
All rebuilt compressors and specialised products manufactured at Haya Air Solution are done so with adherence to ISO standards
HVAC Services
Design, supply, installation, testing and commissioning of new HVAC systems which complies with client and class requirements.
Overhauling of Air Conditioning & Refrigeration Compressors
Ducting Fabrication
Re-tubing & Fabrication of Shell Tubes and Heat Exchangers
Mechanical Ventilation Fan Design and Installation
Compressor Rebuilding
Remanufacturing to original specifications is accomplished efficiently and thoroughly through utilisation of modern techniques and the most up-to-date equipment available. Technicians in the company's various divisions experienced in line boring, sleeving, resurfacing valve plates, remanufacturing crankshafts, rewinding motors and reworking major compressor components, work rapidly and skillfully to complete teh remanufacturing process.
Machine Shop
In order for Haya Air Solutions to keep quality control at the highest level, all machine work is done in house with our surface grinding machines, rod boring machine, lathe, milling machine, cylinder boring machine and our bearing align machine.
Machine Electrical & Automation
New Installations
Repair, Reconditioning, Overhaul, Renew, Troubleshoot & Diagnostic Services
Generator, Alternator, Motor, Switch Gear, Control Panel, Breaker, Safety devices
M/E & A/E Control Circuit, Maneuvering Control, Alarms, Tank Gauging, PLC & DC
Telecoms & Satellite Communication, Infrared Thermograph, Oil Monitoring Systems Installations.
Piping & Insulation
Installation of new Pipe Lines, Renewal of System Pipe Lines, Modification & Pressure Testing
Hot & Cold insulation along with Cladding & Sheet metal work
Heat Insulation, Cold insulation, Sound Barrier insulation, Polyurethane foam filling, pre fabricated insulation, marine duct wrap insulation.
Specialist
Marine, Industrial, Commercial, Ammonia, HVACR Systems, Repairs, Services & Rebuilds of all Major Brands
South Africa, East Africa & West Africa